Latest Reports
and Presentations
In our reports and other publications we constantly give up-to-date information on the current course of business, on the chances and risks as well as on the Group's latest developments.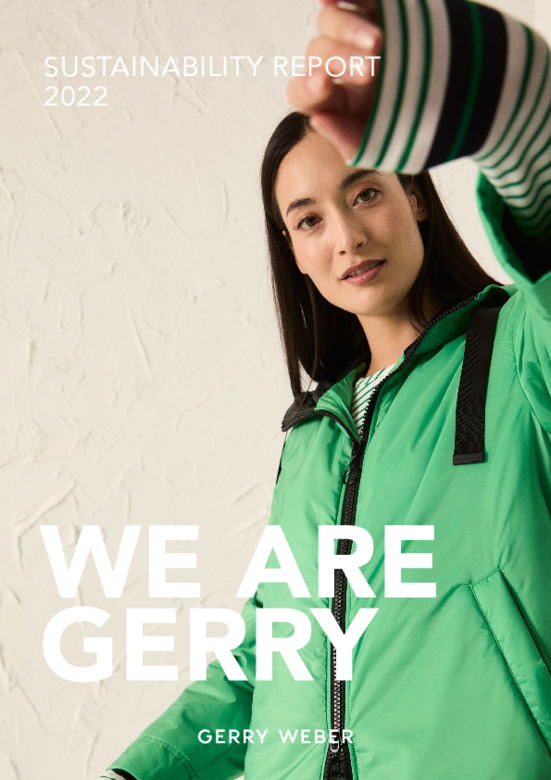 03/30/2023
Sustainability report 2022
Download PDF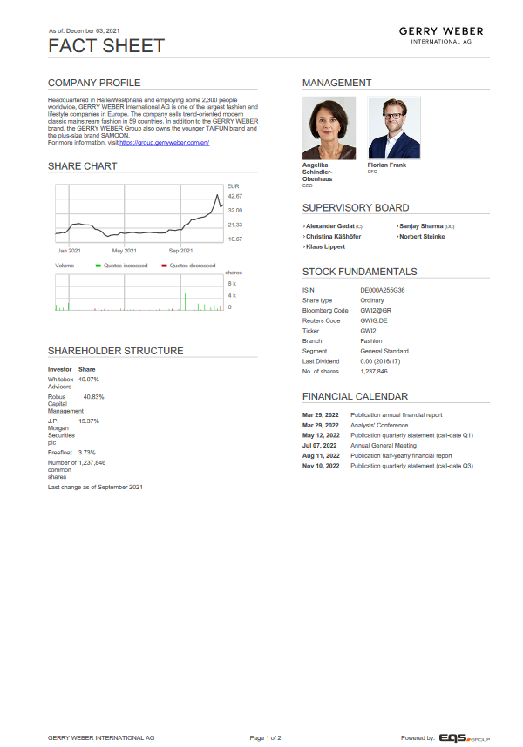 12/08/2023
Fact Sheet
Download PDF
Publications
Corporate Governance
GERRY WEBER International AG is convinced that good and transparent corporate governance in accordance with both national and international standards is an important basis for our long-term success. Corporate governance is therefore part of our identity as a company and reflects the high demands we impose on ourselves; as such it is an essential element of our corporate culture. The basis for good corporate governance is the confidence placed in us by our customers, shareholders and employees as well as the general public. The Managing Board and the Supervisory Board attach great importance to working together in a trusting relationship and ensuring compliance with the recommendations of the German Corporate Governance Code (GCGC). In the past fiscal year, both bodies thoroughly studied the requirements of the German Corporate Governance Code. In addition to the declaration of conformity pursuant to section 161 of the German Stock Corporation Act (AktG) and clause 3.10 of the German Corporate Governance Code, the Corporate Governance Report in this Annual Report therefore also comprises the corporate governance statement pursuant to section 289a para. 2 no. 3 of the German Commercial Code (HGB). Both documents – and all declarations and statements of prior years – are permanently available in digital form on our website in accordance with section 289a para. 2 no. 3 HGB. This Corporate Governance Report moreover includes the compensation report of GERRY WEBER International AG. The latter also forms part of the Group management report and as such of the audited consolidated financial statements.